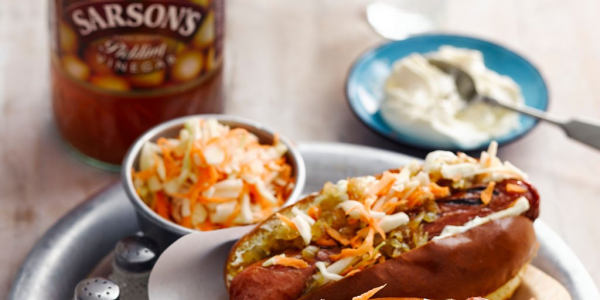 Sarson's partners with street food and blogger favourites for pickling showcase campaign
Sarson's, the UK's number one vinegar brand, is set to launch a new pickling campaign, combining two of the hottest food trends, street food and pickling, aimed at the younger foodie generation.
Sarson's harnessed the power of influential street food traders and food bloggers to offer inspiration as home pickling continues to re-establish its popularity in the UK*. The Sarson's pickling project tasked the participants to create a host of recipes in their individual styles, that tap into current food trends and 'hot' ingredients such as barbeque pulled meats, cauliflower and courgettes.
London's 'Street Feast' favourites , Rainbo, Le Bab, Holy Toast, The Hip Hop Chip Shop and Kin were identified and enlisted as the street food traders for the project whilst  food bloggers Ren Behan, A Glug of Oil, A Mummy Too, A Life of Geekery and Amuse Your Bouche, offering a combined readership of over 100,000, were approached to offer a home cook take on pickling as well. All the food bloggers will be showcasing the recipes on their own blogs and the street food traders will support the project on their own social channels.
To accompany the campaign Sarson's has created a number of 'how to' pickling videos, based on SEO data of the most popular searches around pickling. The videos feature more straightforward, searched for, recipes like pickled onions, but also cater to the more adventurous with pickled prunes and oriental vegetable's recipes. The 15 videos, created by UM, will be promoted across Sarson's social channels, pre-roll and YouTube.
Noa Hasegawa, Sarson's Brand Manager, says: "The art of pickling is having a resurgence and we are on a mission to prove that it isn't just for the older generation, but should be in every foodie's recipe book. Our decision to partner with these traders and bloggers perfectly reflects our strategy to highlight the quality of the Sarson's product to a wider audience, and reflects the behaviour of the modern day foodie, who looks to these people for culinary inspiration."
The Malt category is under pressure from rising popularity of Speciality and Balsamic vinegars and as brand leader Sarson's is keen to maintain its relevance with current as well as encourage a younger user.   Sarson's currently enjoys high brand awareness (85%)** and is found in 23.4% of all UK Households ***