Apple, Plum & Raisin Chutney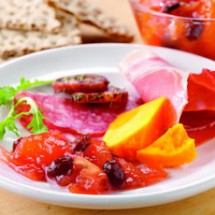 Ingredients
2 x 250g packs apple slices
Approx. 1.2 litres (2 pints) just-boiled water
1 large onion, chopped
375g (12oz) plums, pitted and roughly chopped
50g (2oz) raisins or sultanas
2 tsp salt
300ml (1/2 pint) Mizkan Rice Vinegar >
175g (6oz) golden caster sugar
6 cloves
1 cinnamon stick
This deliciously fruity chutney is perfect for serving with a ploughman's lunch or with carved ham and salad. It uses dried apple slices, which reduce the preparation time – and they keep their shape and succulence when cooked.
Put the apple slices into a large saucepan and cover with the just-boiled water. Bring to the boil, then reduce the heat and simmer gently for about an hour until the liquid has almost evaporated.
Add the onion, plums, raisins or sultanas, salt, Mizkan Rice Vinegar, sugar, cloves and cinnamon stick. Simmer gently, stirring until the sugar has dissolved. Cook gently until the chutney is thick and pulpy – about 45 minutes.
Remove the cinnamon stick, then pot the chutney in warm sterilised jars and seal whilst hot.
Makes 4 x 450g (1lb) jars
Calories per tablespoon 52
Fat per tablespoon trace
Cook's tip: Remember that the chutney will only thicken a little more as it cools, so it should be the right consistency before you pot it.