Aubergine Stacks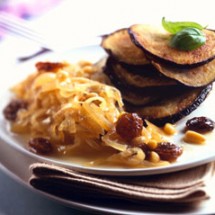 Ingredients
1 kg aubergines, cut into thin slices
1kg white onions, peeled and thinly sliced into rings
100g raisins, soaked briefly in warm water and drained
100g pine nuts, lightly toasted
400ml Mizkan Rice Vinegar >
50g caster sugar
Salt and pepper
Sunflower oil and plain flour for frying the aubergines
1. Lightly salt the aubergines. Season the onion rings with salt and pepper. Put a little sunflower oil in a pan and sweat the onions over a medium heat for 5 minutes until they colour up. Add 350ml of Rice Vinegar to the sugar. Simmer for about half an hour on a low heat. Allow to cool, add the raisins and pine nuts.
2. Rinse and dry the aubergine slices and dredge in seasoned flour. Shallow fry them in batches for 3 minutes a side, taking care not to burn the flour. Drain well on kitchen paper and make into stacks on a plate. Cover with onion mixture and moisten with the remaining Rice Vinegar. Serve.
3. The dish can be eaten immediately but will keep well for up to two days refrigerated.
nb. Mushrooms, courgettes and peppers can all be treated in the same way.