Chicken, Spinach and Carrot Stir-fry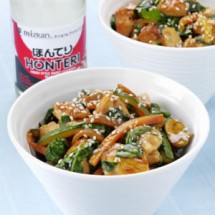 Ingredients
2 chicken breasts, skinned and cut into bite-size pieces
2tbsp Mizkan Honteri >
1tbsp Thai fish sauce
2tbsp light soy sauce
1 garlic clove, peeled and chopped
1tsp fresh ginger puree
1tbsp groundnut oil
2 carrots, cut into matchsticks
100g mushrooms, sliced
1 courgette, cut into matchsticks
150g baby spinach leaves
1tbsp sesame seeds
1. Place the chicken in a bowl. Mix together the Honteri, fish sauce, light soy sauce, garlic and ginger with 1tbsp water and pour over the chicken, stirring until the pieces are coated. Cover and leave to marinate in a cool place for 3 hours or longer.
2. Drain the chicken, reserving the marinade. Heat the oil in a wok, add the carrots and stir-fry for 2 minutes. Add the mushrooms and courgette and stir-fry for a further 2 minutes. Remove from the pan and set aside.
3. Add the chicken and stir-fry for 3 minutes. Return the carrots, mushrooms and courgette to the wok, add the spinach and pour in the reserved marinade.
4. Toss everything together over the heat for 2-3 minutes until piping hot and the spinach has wilted. Sprinkle over the sesame seeds and serve.
Serves: 2