Cooked Spinach Salad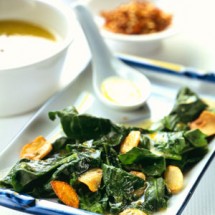 Ingredients
500g washed spinach
1 tbsp Mizkan Rice Vinegar >
2 tsp English mustard powder
Salt and pepper
2 tbsp warm water
3 tbsp olive oil
A salad to take advantage of the ready prepared and washed spinach available in every supermarket. The dressing is a lighter version of a classic vinaigrette.
Mix the Rice Vinegar in a bowl with the mustard powder and the water and whisk until smooth. Season generously with salt and freshly grated pepper. Beat in the oil a spoon at a time.
Place the spinach in a colander in the sink and slowly pour over boiling water. Carefully toss the spinach and leave for 1 minute. Rinse with cold water until completely cold. Gently but firmly squeeze all the water out of the spinach and fluff it up on a serving plate. Spoon the dressing on top and toss to spread it evenly.
Optional garnish – add slithers of garlic fried in a little oil until golden brown.
Serves four as a side dish