Hot & Sour King Prawn Noodle Broth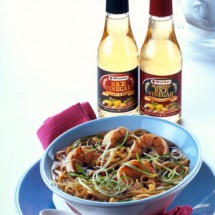 Ingredients
200g headless tiger prawns, cut into thin strips (reserve the shells)
3 spring onions, trimmed (reserve trimmings)
2 small dried chillies, diced finely
½ chicken stock cube
1 tbsp Japanese soy sauce
1 tbsp Mizkan Rice Vinegar >
1 tsp sesame oil
150g medium egg noodles
Simple and delicious noodle dish with a bite of chilli and the freshness of Mitsukan Rice Vinegar. Serves two.
Put prawn shells and spring onion trimmings to simmer in half a litre of water, add the stock cube and cook for ten minutes. Drain and discard the trimmings. Butterfly the prawns, by cutting along the back and opening them out, then place them in a large bowl with the spring onions, chillies, soy, Rice Vinegar and sesame oil.
Return the stock to the heat and bring to a fierce boil. Add the noodles. Cook until just tender then tip into the bowl with the other ingredients. Mix thoroughly and allow to sit for 2 minutes whilst the prawns cook in the hot liquid.
This recipe can be served hot but is delicious if allowed to cool and then chilled before serving.