Lamb Cutlets with Red Onion & Redcurrant Sauce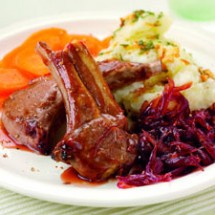 Ingredients
15g (1/2oz) butter
2 red onions, finely sliced
1 tsp light or dark muscovado sugar
3 tbsp Mizkan Rice Vinegar >
4 tbsp redcurrant jelly
8 trimmed lamb cutlets
Salt and freshly ground black pepper
Garlic & rosemary mash and seasonal vegetables, to serve
Melt the butter in a frying pan and fry the onions gently for about 5 minutes, until softened. Add the sugar and cook for another few moments, then stir in the vinegar and redcurrant jelly. Add 2 tbsp hot water. Cook over a very low heat, stirring often, until reduced. This will take about 15 minutes.
Meanwhile, preheat the grill. Arrange the lamb cutlets on the grill rack and season them with a little salt and pepper. Grill them for 3-5 minutes on each side, depending on how well done you like them. Baste them with a little liquid from the red onion sauce to give them extra flavour.
Serve the cutlets with garlic and rosemary flavoured mashed potato, with freshly cooked vegetables. Spoon some of the red onion sauce onto each plate, then serve at once.
Serves: 4
Calories per serving: 392
Fat per serving: 18g (without mash)
Cook's tip: To make garlic and rosemary mash, gently fry 2 crushed garlic cloves in a knob of melted butter with 1 tbsp finely chopped fresh rosemary. Add to hot mashed potatoes with a little milk and seasoning. Beat together well, then serve.