Lamb with Two Potato Salad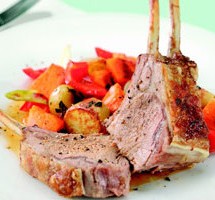 Ingredients
2 racks of lamb, chined
2 tbsp olive oil
Salt and freshly ground black pepper
Salad:
350g/12oz new potatoes
350g/12oz sweet potatoes, peeled and cut into even-size pieces
6 tbsp olive oil
1 red pepper, deseeded and chopped
1 bunch spring onions, sliced
2 tbsp Mizkan Rice Vinegar >
1 tsp honey
1 tbsp chopped fresh rosemary or mint leaves
Preheat the oven to 200C/400F/Gas mark 6. Place the racks of lamb in a roasting tin and cover the bone ends with small pieces of foil to prevent them burning. Brush with the oil and season with salt and plenty of freshly ground black pepper.
Roast the lamb in the oven for 45 minutes or until cooked to taste.
To make the salad, boil the potatoes in a pan of water for 3 minutes, add the sweet potatoes and cook until both are just tender. Drain.