Mirin Roast Salmon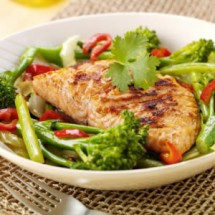 Ingredients
2tbsp Mizkan Honteri >
2tbsp Japanese soy sauce
1/2tsp fresh ginger puree
1tsp soft brown sugar
4 x 150g salmon fillets
1tsp groundnut oil
Stir-fry vegetables:
2tbsp groundnut oil
100g tenderstem broccoli florets
2 celery sticks, cut into matchsticks
1. Mix together the Honteri, soy sauce, ginger and sugar, stirring until the sugar dissolves. Put the salmon in a shallow dish, pour over the honteri mixture, cover and leave to marinate in a cool place for 1 hour.
2. Heat a heavy non-stick frying pan and lightly grease with 1tsp groundnut oil. Lift the salmon from the marinade, add to the pan and cook for about 5 minutes, turning the fillets over once.
3. Meanwhile, stir-fry the vegetables. Heat 2tbsp groundnut oil in a wok, add the broccoli, celery, red pepper and pak choi and stir-fry over a high heat for 3 minutes. Pour in any marinade left in the salmon dish and stir-fry for a further 1 minute.
4. When the salmon is cooked, lift the fillets from the pan and keep warm. Add the fish stock and let it bubble for 1 minute, scraping the pan to incorporate any juices sticking to it.
5. Serve the salmon with the vegetables and the pan juices drizzled over.
Serves: 4