Pork with Creamy Mushroom Sauce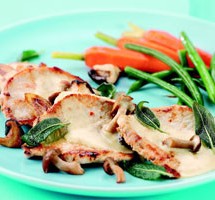 Ingredients
4 tbsp sunflower oil ,
450g/1lb pork loin steaks, trimmed of fat and thinly sliced,
3 shallot, peeled and sliced,
350g/12oz mixed mushrooms, quartered, sliced or left whole,
4 tbsp Mizkan Rice Vinegar >
150ml/1/4 chicken stock ,
2 tsp Dijon mustard,
½ tsp sugar,
4 tbsp crème fraiche.
To Garnish:
12-16 sage leaves
Oil for frying
Heat half the oil in a large frying pan and fry the pork in batches for 2-3 minutes on each side until browned and cooked through. Remove from the pan and keep warm.
Add the remaining oil to the pan and sauté the shallots for 5 minutes. Add the mushrooms and sauté for a further 5 minutes. Pour in the vinegar, stirring so any juices sticking to the bottom of the pan are mixed in. Add the stock, mustard and sugar.
Stir over the heat for 1 minute, then add the crème fraiche a tablespoon at a time. Leave to simmer over a gentle heat.
Rinse the sage leaves and dry thoroughly. Heat a little oil in a pan and drop in the leaves a couple at a time. Fry for a few seconds until they curl and become crisp. Drain at once on kitchen paper.
Divide the pork between serving plates and spoon over the sauce. Scatter over the sage leaves and serve with a selection of vegetables.