Roast Mackerel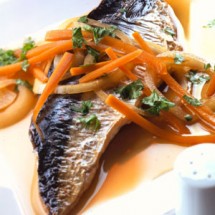 Ingredients
4 fillets of very fresh mackerel each weighing 150g approx
2 tsp Mitsukan Rice Vinegar >
Coarse sea salt and coarsely grated black pepper
For the dressing:
100ml Mitsukan Rice Vinegar >
2 heaped tbsp caster sugar
1 large carrot, peeled and cut into match stick sized strips
1 large onion, peeled and cut into fine rings
2 tbsp Japanese soy sauce
A handful of picked parsley leaves
East meets West in this treatment of an often under rated fish. Serves four
Preheat oven to maximum. Marinate the mackerel fillets in the smaller quantity of vinegar and a generous seasoning of coarse salt and pepper.
Bring the Rice Vinegar and sugar to a boil, season. Add the carrots, onions and soy sauce and mix well. Set aside to cool whilst the fish is roasted.
Place the mackerel fillets skin side up on a lightly oiled baking tray and bake in the very hot oven for approx ten minutes.
Serving:
Carefully transfer the fillets to individual plates. Spoon a quarter of the dressing over each and sprinkle with parsley.