Roast Sweet Potato Wedges with Garlic & Coriander Mayo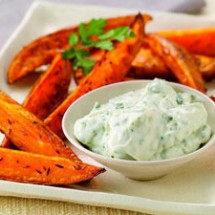 Ingredients
4 medium sweet potatoes (weighing about 900g/2lb)
2 tbsp olive oil
1 tsp cumin seeds
Salt and freshly ground black pepper
GARLIC MAYONNAISE:
2 egg yolks
2 tsp Mizkan Rice Vinegar >
1 garlic clove, crushed
1 tsp Dijon mustard
Pinch of caster sugar
Salt and white pepper
300ml (1/2 pint) delicately flavoured olive oil
2 tbsp chopped fresh coriander
Make a wonderful garlic mayonnaise with egg yolks and olive oil, flavoured with chopped fresh coriander – and garlic, of course! Serve as a dip with sweet potato wedges roasted with cumin seeds.
1. Preheat the oven to 200°C, fan oven 180°C, Gas Mark 6.
2. Slice each sweet potato into 6 or 8 wedges, depending on their size. Put them into a large roasting tin with the olive oil and cumin seeds. Season, then toss together. Spread them out to allow a little space between them, so that they crisp up nicely. Roast for 25-30 minutes, turning after 15 minutes. Test that they are tender – if not, cook for a little longer.
3. Make the mayonnaise whilst the sweet potatoes are cooking. Place all the ingredients, apart from the olive oil, into a blender or food processor. Blend together for a few seconds until pale and creamy. With the motor running, slowly add the oil in a steady stream, through the feeder tube, until the mayonnaise is thick. Transfer to a serving bowl and stir through the coriander.
4. Serve the sweet potato wedges with the garlic and coriander mayonnaise.
Serves: 8
Calories per serving: 444
Fat per serving: 40g
Cook's tips: The ingredients for the mayonnaise should be at room temperature for best results. If you prefer, flavour it with finely chopped chives or spring onions instead of coriander.