Roast Vegetable Salad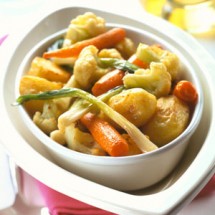 Ingredients
300g (11oz) new potatoes, scrubbed and cut into bite-sized pieces
200g (7oz) baby or small carrots, peeled and split lengthways
1kg fresh peas (30oz), shelled
200g ( 7oz) baby summer turnips, trimmed, washed and quartered
300g (11oz) asparagus stalks, peeled and trimmed
200g (7oz) beans ie broad, runner or French beans
2 bunches large spring onions, partially split from the green end, rinsed thoroughly
200g (7oz) button mushrooms, preferably chestnut brown, quartered
150g (5oz) spinach
Very good olive oil
3 tbsps Mitsukan Rice Vinegar >
4 garlic cloves, peeled and grated
1 large red chilli pepper, de-seeded and finely diced
Sea salt and pepper
2 bay leaves
Pre-heat the oven to maximum and lightly oil a large roasting dish.
All the vegetables are blanched in boiling, unsalted water so that they are cooked and still al dente. After blanching, plunge immediately into cold water and drain well. Blanche the vegetables in the following order:
potatoes, carrots, peas and turnip 10-12 minutes.
asparagus and beans for 4-5 minutes
spring onions, mushrooms and spinach for 1 minute.
Place all the vegetables in a large bowl. Mix the vinegar, minced garlic, chilli and olive oil together, pour over the vegetables and stir to coat well.
Season with salt and pepper, add the bay leaves and drizzle with a little oil, place in the roasting dish. Cook in a hot oven for 30 minutes. Shake the roasting dish from time to time to prevent sticking.
Remove from the oven and allow to cool a little before serving.
Hints & Tips
Vegetables can be changed according to seasonal availability.
Avoid beetroot as it colours everything.
Delicious served with crusty hot garlic bread.