Seared Salmon Fillets on Steamed Greens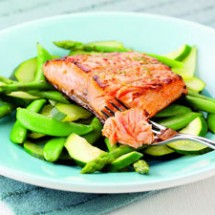 Ingredients
3 tbsp Mizkan Rice Vinegar >
Finely grated zest and juice of 1 lime
2 tbsp soy sauce
Pinch of dried chilli flakes
2 tbsp olive oil
4 x 150-175g (5-6oz) salmon fillets
2 courgettes, sliced
175g (6oz) mangetout
175g (6oz) asparagus
Freshly ground black pepper
1 Put the Mizkan Rice Vinegar, lime zest and juice, soy sauce and chilli flakes into a shallow dish with 1 tbsp of the olive oil. Add the salmon fillets and turn them to coat. Cover and leave to marinate for at least 20 minutes, turning occasionally.
2 Put the vegetables on to steam over boiling water. They will take about 6-8 minutes to cook.
3 Heat the oil in a frying pan and add the salmon fillets, cooking them over a high heat, and turning them to cook each side. They will take about 6 minutes to cook.
4 Share the steamed vegetables between 4 warmed serving plates and top with the salmon fillets. Season with freshly ground black pepper, then serve.
Serves: 4
Calories per serving: 411
Fat per serving: 26.4g
Cook's tip: Serve with instant noodles or rice to make the meal complete.