Sesame stir-fried prawns with pineapple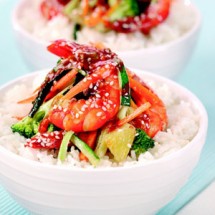 Ingredients
2 tbsp pineapple juice,
2 tbsp soy sauce,
2 tbsp tomato ketchup,
2 tbsp Mizkan Rice Vinegar >
1 tsp fresh ginger puree,
1 tsp honey,
4 tbsp sunflower oil,
1 large carrot, peeled and cut into matchsticks,
1 courgette, cut into matchsticks,
150g/5oz small broccoli florets, blanched for 2 minutes,
2 pineapple rings, cut into small chunks,
500g/1lb 2oz raw prawns, peeled but tails left on,
1 tbsp sesame seeds.
Mix together the pineapple juice, soy sauce, ketchup, vinegar, ginger puree and honey together.
Heat half the oil in a wok or large frying pan, add the carrot and courgette sticks and stir-fry for 2 minutes and then remove from the pan and set aside.
Add another tablespoon of oil to the pan, add the pineapple chunks and stir-fry for 1 minute until lightly browned. Remove from the pan and set aside. add the remaining oil to the pan and when really hot, stir-fry the prawns for 2-3 minutes until they just turn pink.
Pour the pineapple and soy mixture into the pan and stir the prawns until well coated. Return the vegetables to the pan and toss everything together for 1-2 minutes until piping hot.
Sprinkle over the sesame seeds and serve at once with rice or noodles.