Sweet & Sour Pork Fillet Stir Fry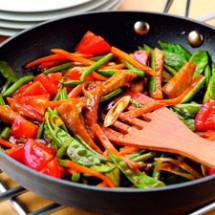 Ingredients
2 tbsp Mizkan Rice Vinegar >
2 tbsp soy sauce
1 tbsp tomato puree
1 tbsp light muscovado sugar
1 tbsp cornflour
2 tbsp stir fry oil or vegetable oil
300g (10oz) pork fillet, sliced
110g (4oz) mangetout or sugar snap peas
1 bunch spring onions, trimmed and sliced
1 carrot, cut into fine strips
110g (4oz) fine green beans, sliced
300ml (1/2 pint) chicken or vegetable stock
4 tomatoes, roughly chopped
Salt and freshly ground black pepper
Mix together the Mizkan Rice Vinegar, soy sauce, tomato puree, sugar and cornflour. Set aside.
Heat the oil in a wok or large frying pan and add the pork fillet. Stir-fry for 3-4 minutes, then add the mangetout or sugar snap peas, spring onions, carrot and green beans. Stir-fry for another 2 minutes.
Add the stock and bring the mixture to the boil. Add the tomatoes and stir them in, then reduce the heat and simmer for 3-4 minutes.
Stir the vinegar and soy sauce mixture, then add it to the pork, stirring and cooking for 1-2 minutes until thickened. Season to taste. Serve the sweet and sour pork with noodles or rice.
Serves: 4
Calories per serving: 242
Fat per serving: 12.3g
Cook's tips: Make this recipe with chicken instead of pork, for a change. To save time, use a 300g bag of fresh or frozen stir-fry vegetables instead of preparing your own.