Tarragon and Walnut Crusted Salmon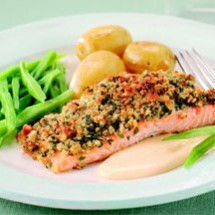 Ingredients
50g/2oz fresh breadcrumbs ,
1 tbsp chopped fresh parsley ,
2 tbsp chopped fresh tarragon ,
1 garlic clove, peeled and crushed ,
2 tbsp finely chopped walnuts ,
40g/11/2 oz butter, melted ,
Salt and freshly ground black pepper ,
4 x 150g/5oz salmon fillets.
Sauce:
175g/6oz butter,
4 tbsp Mizkan Rice Vinegar >
3 large egg yolks
In a bowl, mix together the breadcrumbs, parsley, tarragon, garlic and walnuts. Stir in the melted butter and seasoning.
Preheat the oven to 200C/4ooF/Gas mark 6.
Place the salmon fillets, skin side down, in a greased shallow ovenproof dish and spread the breadcrumb mixture over them. Bake in the oven for 10 minutes or until the salmon is cooked and the topping crusty.
To make the sauce, melt the butter in a pan over a gentle heat. Put the vinegar in another pan and bring to the boil. Place the egg yolks in a blender, whiz for a few seconds until smooth and then, with the motor running, add the hot vinegar. Bring the butter to the boil and, with the motor running , trickle the hot butter into the egg mixture until combined.
Serve the salmon with the warm butter sauce.