Thai Beef Salad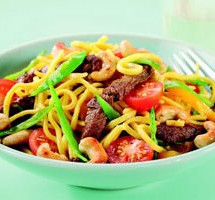 Ingredients
400g/14oz sirloin, fillet or rump steak
½ tsp fresh lemon grass puree
1 tsp fresh ginger puree
2 tsp ground coriander
2 tbsp Thai fish sauce
2 tbsp Mizkan Rice Vinegar >
1 tsp brown sugar
2 tsp sweet chilli sauce (or to taste)
4 tbsp groundnut oil
50g/2oz unsalted cashews
1 yellow pepper, deseeded and sliced
100g/4oz mange tout, sliced
8 cherry tomatoes, halved
200g/ 7oz egg noodles
Trim any fat from the steak and cut into strips. Mix together the lemon grass puree, ginger puree, coriander, fish sauce, vinegar, brown sugar and chilli sauce and pour over the stead. Turn the meat over until coated, then cover and chill for several hours or overnight.
Heat half the oil in a wok or large frying pan, add the cashews and stir-fry for 30 seconds until golden. Drain on kitchen paper. Add the pepper to the pan and stir-fry for 2 minutes. Add the mange tout and sauté for 2 minutes, then add the tomato halves and sauté for a further 1 minute. Remove from the pan and set aside.
Cook the noodles in a pan of boiling water for 4 minutes or according to the packet instructions. Meanwhile, heat the remaining oil in the wok or frying pan, lift the steak from the marinade and stir-fry over a high heat for 2 minutes. Pour the marinade over the steak and stir-fry for a further 1 minute.
Mix the steak with the noodles and vegetables and scatter over the nuts. Serve warm or cold.