Corporate Philosophy
Mizkan Group Corporate Symbol

Bringing Flavour to Life
Being a food manufacturer, we take great responsibility and pride in manufacturing essential food products that promote the health and well being of our customers. "Bringing Flavour to Life" is the core concept that reflects our commitment.
Two Principles
"Offer the Customers Only The Finest Products"
To ensure "Offer Customers Only The Finest Products" enables us to improve quality.
"Continuously Challenge The Status Quo"
To ensure "Continuously Challenge The Status Quo" leads to "continuous innovation."
The Mizkan Group will pursue consistent business growth based on our "Customer comes first" motto endlessly.
We will achieve business growth as a result of customer satisfaction by realizing these two principles in our daily operations.
Realization of "business growth by continuous quality improvement"
Change and Challenge
It began with the courage to conquer a challenge
The history of the Mizkan Group dates back over 200 years. The company succeeded in producing kasuzu, a type of vinegar made from sake lees, which is a by-product of sake. Prior to this, vinegar was made from conventional rice in vinegar manufacturing facilities. Producing vinegar in a sake brewing facility was unprecedented at that time. Acetic acid bacteria, necessary for making vinegar, could possibly contaminate the sake process once it was introduced into the brewing facility. This new way to manufacture vinegar in a sake facility could have jeopardized the entire sake brewing process. This was truly a tremendous accomplishment. Currently, the company continues to create new value-added products other than vinegar, including top selling brands such as Ajipon. This is an example of how the Mizkan Group has overcome challenges and adapted to change both internally and externally.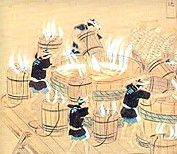 Technological Innovation
Continuous efforts to conquer challenges lay the groundwork for the future
The Mizkan Group's technological expertise sets us apart from other food manufacturers. Our goal is to grow and strengthen the Mizkan brand based on continuous innovation and on-going technological advancements. To this end, the Central Research Institute has played an essential role since its establishment in 1942. The main objective of the institute is to be the leader in fermentation and brewing technologies. Additionally, the institute has made numerous contributions to the technological advancements within the Mizkan Group, including the world's first genome analysis of acetic acid bacteria, completed in 2002. The Mizkan Group will strive to create growth by continuing to enhance our technological capabilities.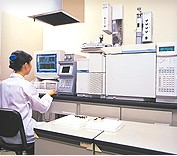 Safety and Reliability
Quality products for our customers
The Mizkan Group believes that everything we do is based on ensuring customer satisfaction. To this end, we stay abreast of constantly changing consumer lifestyles and value customer feedback. We have set in place strict quality assurance measures encompassing the entire manufacturing process from product concept to actual commercialization. We define quality from a broad perspective that includes the testing of raw materials and ingredients, manufacturing and distribution controls, customer satisfaction, commitment to recycling and most importantly product safety. We are continuously making a concerted effort to meet a wide variety of internal and external safety and reliability requirements.